Five sisters from the same house succeeded in CSS. The four older sisters of Rawalpindi suburban Zoha Malik Sher passed this year's exam. There are already holding various government positions bypassing CSS. Malik Sher is among the 372 candidates who passed the CSS final exams.
The results of the Central Superior Service (CSS) Examination for 2019 under the Federal Public Service Commission were announced on Thursday , in which Rawalpindi's subcontinent became the fifth woman from the same family to pass the CSS exam. A total of 23,234 candidates applied for the CSS exams, So, 14,521 candidates appeared for the exam, out of which only 372 passed the final exam.
Successful candidate Zoha Malik Sher
The successful candidates also include Zoha Malik Sher, whose four older sisters have already passed various positions in various government positions. The eldest of five sisters, Leila Malik Sher, passed the CSS exam in 2008 and is currently the deputy commissioner of the Board of Revenue in Karachi.
Her other sister Sherman Malik Sher passed the CSS in 2010 and is currently the Director of the National Highway Authority of Islamabad. Similarly, in 2017,Sasi Malik Sher and Marvi Malik Sher took the CSS exam and both passed. The CCE CEO is undergoing training at Lahore Cantonment, while Marvi Assistant Commissioner Abbott is located. On Thursday, his youngest sister, Zahi, also passed the exam and possibly set a new record in Pakistan.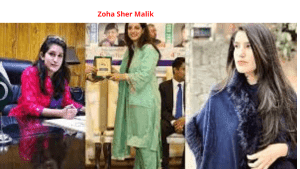 Introduction About Zoha Malik Sher

According to some resources, zoha said "my wish is to serve Pakistan as administrators position".
Do you know what work zoha father does and which city he belongs to?. The zoha father's name is Malik Rafiqueawan. he works in wapda and belongs to khaberpakhtunkhaw.
But due to the job he has left kpk and transferred to Rawalpindi.Melinda Gates Biography,Life,Age,Family&Much More
Do you know in which school zoha and his sister got primary education? All of the Above five sisters get their primary education from the presentation convey high school. The famous politician Benazir get primary education from the same school.
Zoha Said " So, I learned from my father and sisters that if you want to succeed then convert your softness into prospects. We don't have one brother in my family, but we are proud that we sisters represent the whole country.
Talent is gifted by god. So these five sisters have good gifted talent and good luck. Everyone one can sucess in life, if they will do more struggle and consistency.
May She got success in every field of life
Zoha Malick Sher-TheLifeColor