short haircuts for men are now in trend these days. For now, the fashion of long hair seems to go to an end. In fact, it is not wrong to say that a proficient and decent appearance has gained popularity in males of all ages. Whether they are young, teenage or boy's short haircut is the favorite among men all around the world.
Therefore if someone wants to be in a trend he has to chop his long hair. Similarly, you can also go for something different to cope with a short haircut. By using different branded hair gel and wax you can have a variety of hairstyles as well. Simply by running your fingers into your hair you can create an "I woke up like this" look very easily.
Well, it is better to clear here that a short haircut does not mean that there are a few options for styling your hair. In fact, there present a huge number of styles for short hair. So we are going to give a summary of the latest short haircut for men that are in trend to make you a part of updated fashion.
short haircuts for men
1-The crew haircut short haircuts for men
Among the most popular short haircut is crew cut. This elegant crew cut is like by most of the men and yes top trending these days. In this haircut, the sides are tapering and you can style your hair easily. Also, you can utilize branded hair products for example matte hair wax or pomade for a rough and messy hair look. In fact, the hairstyle in this way looks extremely good and gives a decent look too.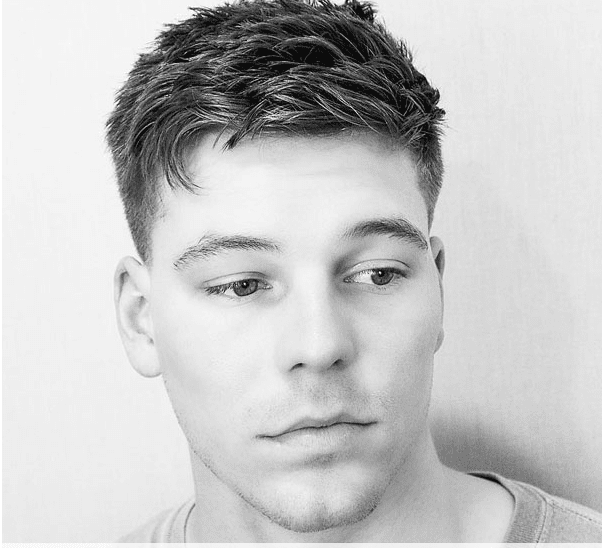 2-The classical Buzz haircut
Well, it is not wrong to say that both Classical Buzz kids haircut and crew haircut are the most favorite among short haircuts. The buzz haircut has faded hair on both sides and gives a very classical look. However, some men ask their barbers to make some designs on the tapering sides or to clean up the hairlines. Consequently, it is best for men who have thick hair growth and the buzz cut gives them a more decent look.
3-French crop short haircut
This haircut has instantly gained popularity among the best short haircuts for men. Usually, it has faded or light hair sides along with a few inches of hair on the top. Also, a French crop short haircut is perfect for all hair types. Such short haircut looks great when they give a messy or rough look. For this purpose, you can use several good-quality hair waxes or pomade short haircuts for men
After applying the product comb your hair a bit forward and then windswept. It will add volume to your hair. Blow drying your hair will also create a messy in fact classy look of yours short haircuts for men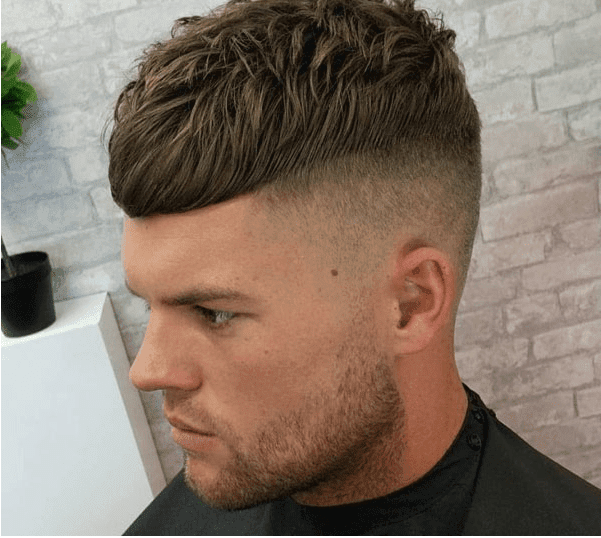 4-Ivy League short haircut
This haircut is a transitional form of crew short haircut and in trends all the time. As it is a transition of crew cut so it has faded sides with a few inches longer hair on the top. It is usually styled with a slight sweep from the front to give a more stylish and ethereal look short haircuts for men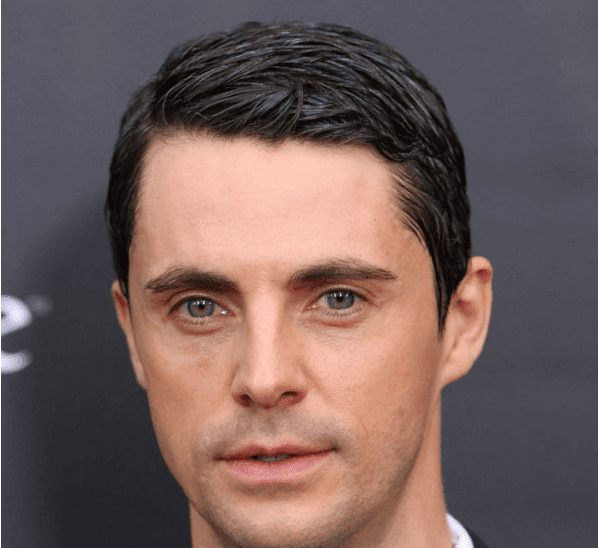 5-Skin faded short haircut
These haircuts are like by the new generation and you can see a lot of young boys having skin-faded haircuts. Like previous short haircuts, it has also fade sides and short haircuts for men on the top is spike up to give a messy look. On faded sides, a distinctive shaving line is created to give an overall dashing look.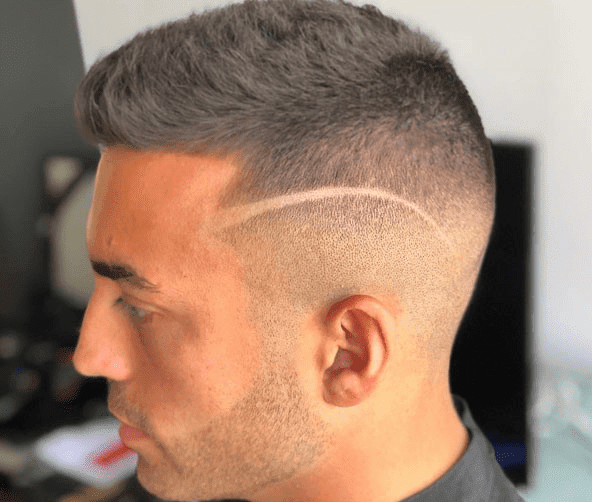 6-A high tight short haircut
Basically, it is an inspired haircut from the army along with a contemporary twist on the top hair. This short haircut for men has a high bald faded side with short haircuts for men on above. This haircut is smooth and gives a masculine look. It is highly recommended for summers to give a different and fresh look.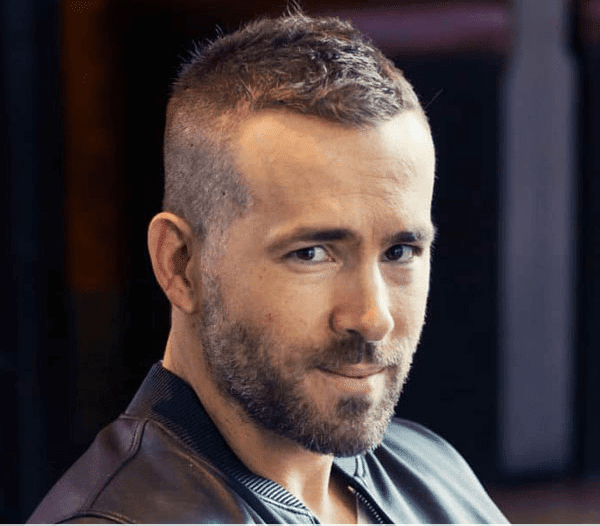 7-The classical comb back faded short haircut
This short haircut is known to be contemporary, versatile, and sophisticated. It has low tapering on sides while dense or volume hair on the top. This haircut mainly focuses on the good comb hair over to give a professional look. It looks great on all types of hair length and mostly like by working men.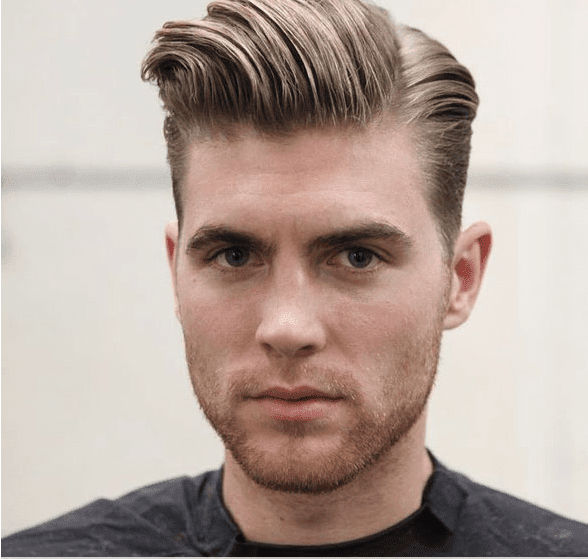 8-Crop top fade short haircut
Among the latest generation, this haircut has made a special place in men and count for the most trending short haircut. This trending short haircut emphasizes the eyes on the voluminous hair present above. For about a hair length of 2-3 inches, the short chopped hair comb ahead to make an outlying. Rough and messy styling of hair gives a decent, elegant look on the whole.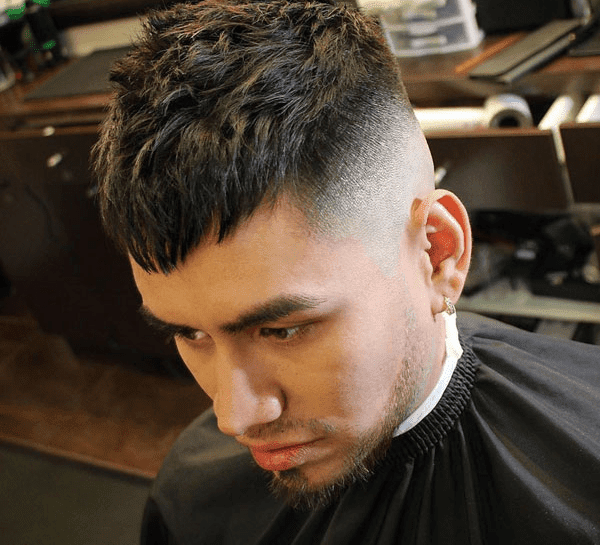 9-The short undercut fringe
This short haircut has gone forward into a very unique updated haircut. In short undercut fringe dense hair on the top has become small and layered. Also, a sufficient hair length is present to make a side-swept for a pointed fringe. The very classical undercut sides bring your devotion to the voluminous and rough look in styling the hair.
In order to style undercut short fringe use good quality hair waxes and pomade by running your fingers into tousle. Finally, gently comb your hair to one side to give an enchanted look. Apply a sufficient amount of product to create a messy and decent look of hair.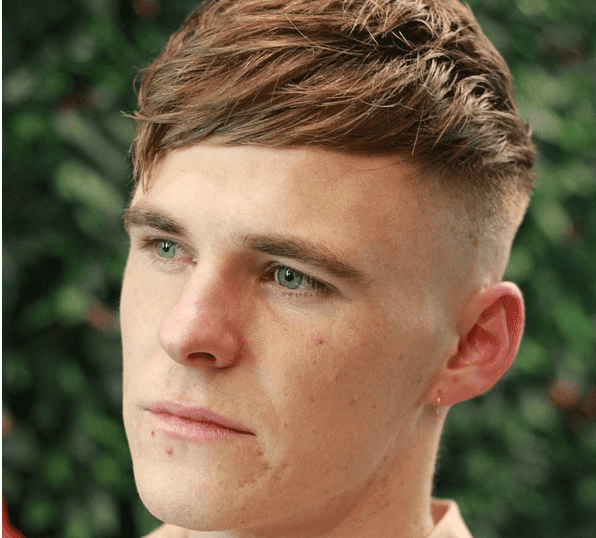 10-Messy short haircut
This haircut comprises a short tapering fade along with an extended rough and messy top. Men with dense, thin, curly, and wavy hair texture can have this haircut. Consequently, by having sufficient length of hair on above, it is significant that your hair regular texture has the freedom to direct the movement.
11-Pompadour Fade Short Haircut
This is a perfect blend of both contemporary and classical short haircut. Pompadour has a cool central fade that is tied up with short pomp. This pomp is gently combing back and forth. For properly style hair usually men ask their barber to chop up the back hair shorter while hair from the front side is a bit longer. Styling your hair this way gives a decent and royal look.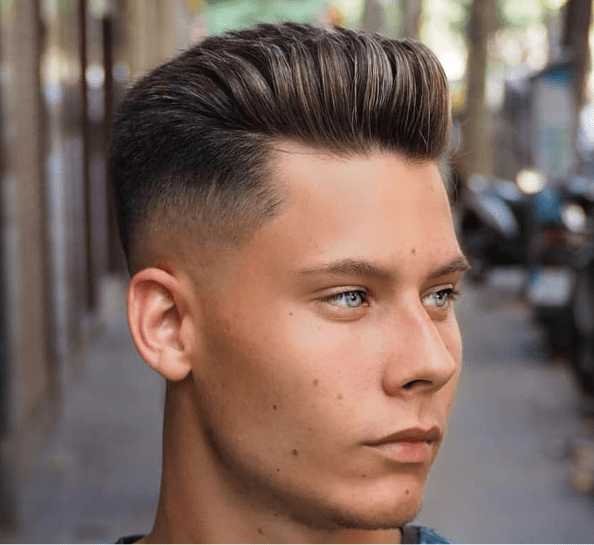 12-Slick back short undercut
This contemporary short haircut is usually style with volume entirely opposite to the usual greaser hairstyle. Typically, men use hair wax, pomade, or blow dryer along with a matte fashionable product for extra stream. Most men desire to modify their appearance to look different from others. Thus, the slick back short undercut is sufficient to shape a quiff, pompadour, or backcomb.
13-Short side part haircut
The short haircut is perfect for business running or working men like experts and hipsters equally. Short haircut for men includes various side parts. Thus it can be pointed with a sharp line smoothly-shaven through the hair.
Similarly, men also do not have to precisely make partition into the hair to one side. Thus, this presents an overall fashionable low fade along with a side brush fringe that is comb along the side and then back.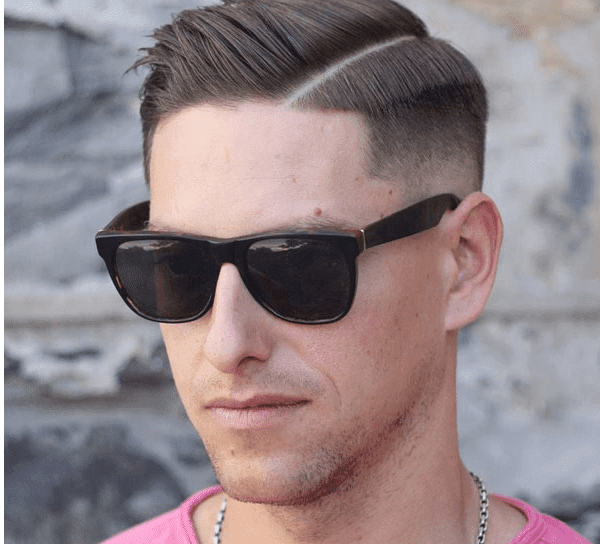 14-The stylish short quaff
Nowadays the idea of men's short quiff is top trending. Along with tapering fading sides to prominent the shaping on above. This updated contemporary short quiff is stylish however casual.
Moreover, styling the hair on top can be done with lengthy, normal hair length or also short hair. The short quiff frequently seems perfect textured, ordinary, and disorganized for extreme movement and density.
Despite the fact that the looks of short quiff's hairstyling recommend that it is an extra casual hairstyle. It is similarly just as appropriate for specialists. In the long run, the short quiff haircut is an attractive hairstyle for men who desire a stylish hair look.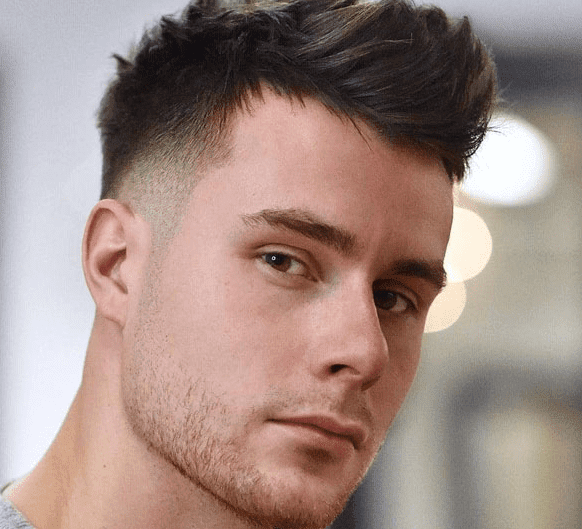 15-High Bald Fade
It is fact that the tight and high fade on both sides involves accuracy in chopping up hair and blending. That is why several hairstylists suggest a high bald fade haircut. Even though men do not want to trim the edges down towards the skin.
However, the high and tight or short haircut on top went perfectly with all types of hair whether hair is curly, thick, thin, or has waves. This is due to the fact that short hair usually has curls, waves and is difficult to style.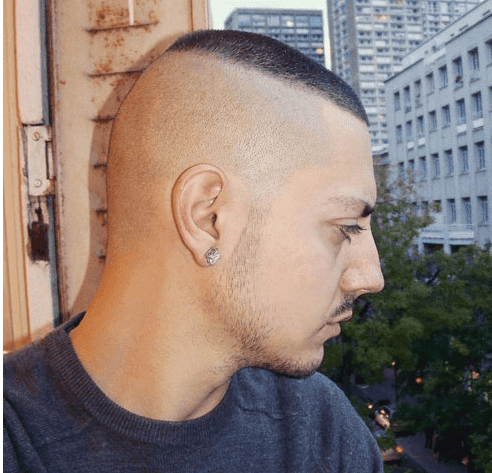 16-Short curly fade haircut
This hairstyle is popular among men who have short curly hair. Usually, short hair is particularly suitable for curly or wavy hairdos. As it is quite difficult for men's hair to style in curls. On the other hand, wavy lengthy hair can be specifically attractive with rough and messy cutting along with faded sides. Whatsoever your particular style, men must have to know the fact that a short curly fade haircut is an unproblematic choice to take into account.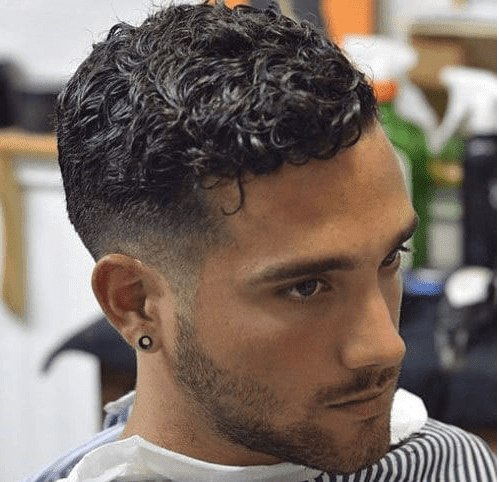 17-Short spiky hair
This haircut for men has been famous among men since 1990. Even though we do not suggest frosty edges or light-colored highlights with your spiky hair. Short spiky hairstyles of men can be mainly attractive when they are style as you would expect for a rough or messy hair look.
Besides utilizing the gel that will join your hair together in a clump, the best quality wax or pomade product can assist you to make thick hair spikes for a handsome look. In consort with fade sides, spiky short hair will continuously be in trend.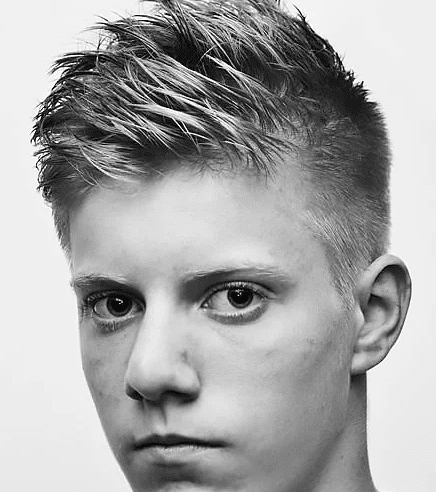 18-Faux Hawk short haircut
This haircut is a transitional form of the old-style Mohawk haircut. However, a faux hawk short haircut still provides an elegant, young-looking, and attractive short haircut for men. Especially, the fohawk fade haircut presents a fashionable however amazingly versatile shape and styling for short-length hair. With several diverse methods to chop out fades on the edges and back. The comparative comfort in which men can merely comb and shape their hair on the top side. This haircut perfectly suites the man of all ages.
Being the tamer type, the short faux hawk haircut is preferably messy and rough by using lusterless hair products. Therefore, properly run your fingers into the hair for a more messy and usual look that will definitely look exceptional.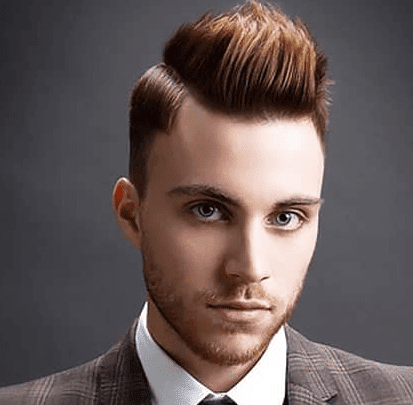 19-Short side swept haircut
Short edges and extremely lengthy side bangs are the constituents of the short side-swept haircut look too. It is identical to versatile texture, but the basic thing is how you shape them. Adding volume to the hair is not an essential issue while styling your hair. The aim behind it to look decent and only just comb back.
Typically men with hair length range from short to medium, this undercut side-swept hairdo. It gives a sensual contemporary expression that is difficult to beat. The short sides are fresh and traditional for the present generation, but the comb-over hair remains graceful and bouncy. Gentlemen medium to short hairdos in this manner can be shaped simply with a graceful shaping cream or a reasonable grasp pomade.
Thoroughly move the product into the hair, let your hair down evenly, and by using your fingers to comb the strands to a specific side for a sophisticated texture.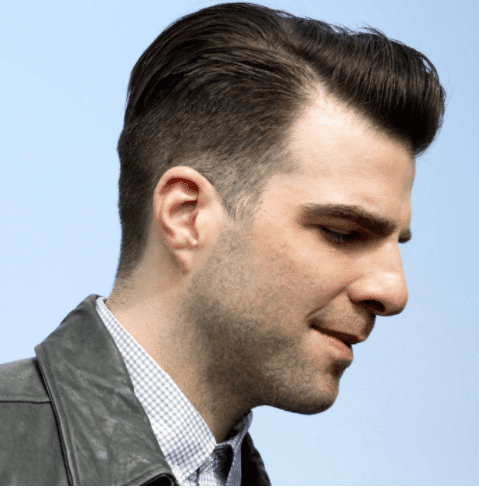 20-The hipster haircut
This haircut is actually set out by its important pomp on top. This is because it is imperative to leave a minimum of 3 inches on top when someone wants to have this type of haircut. Also, the hair length from both sides is set by your first choice, fluctuating from short to medium hair length. The hipster haircut goes perfectly for sleek straight to slightly wavy hair.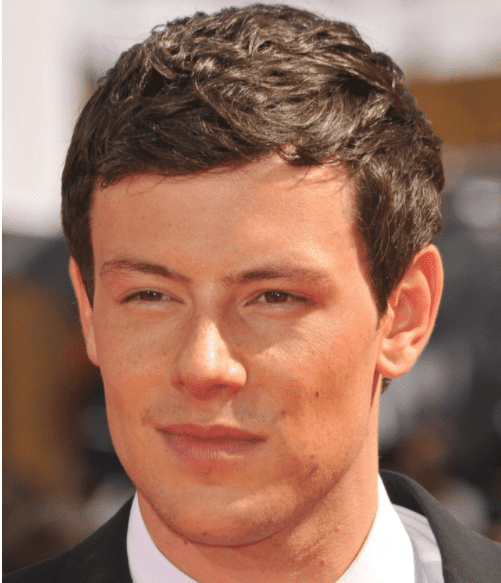 21-Cory Monteith'sScissor short haircut
This scissor short haircut is a classical haircut. Cory Monteith's Scissor short haircut is still trending and like by the majority of men. Basically, it is stylish and requires a bit of look after a hairstyle that is suitable for almost all short haircuts for men.
In fact, it is considered to be among the latest unique haircut of the present age. Also, this haircut is the choice of most celebrities.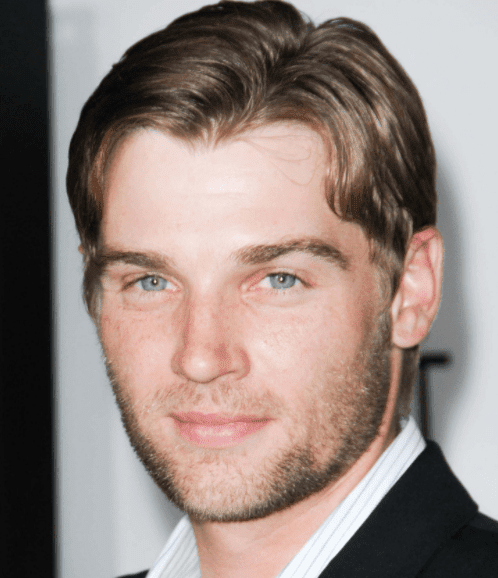 22-Mohawk the short Burst haircut
This haircut designs for an overwhelming hairdo. Most men desire a tapering short hairdo but they do not want to trim both sides. For these people, these mohawk burst fade haircut blends are the best option short haircuts for men,
As the burst tapering fade lines all over the ears and down towards the neck create a cool look. Even though the side lines wash up the hairline along with the beard and temples. Ultimately the rough messy mohawk all above imparts persona and usual stream to the whole look.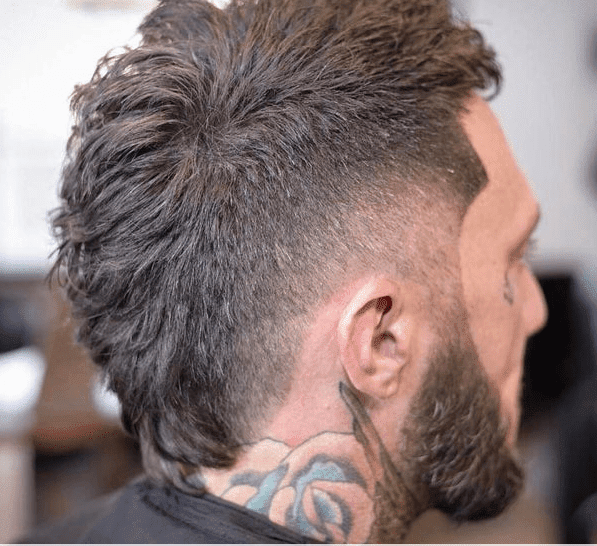 23-Wavy hair Fade short haircut
For men, it is difficult to carry their waves and tame them up. This short wavy fade haircut is one of those ways to tame and carry your waves very easily. Because wavy hair gives a thick, dense look besides providing texture to any shape. In this haircut, your hair is chopped up very short in order to lessen the frizz but at the same time permits you to control their virgin hair texture.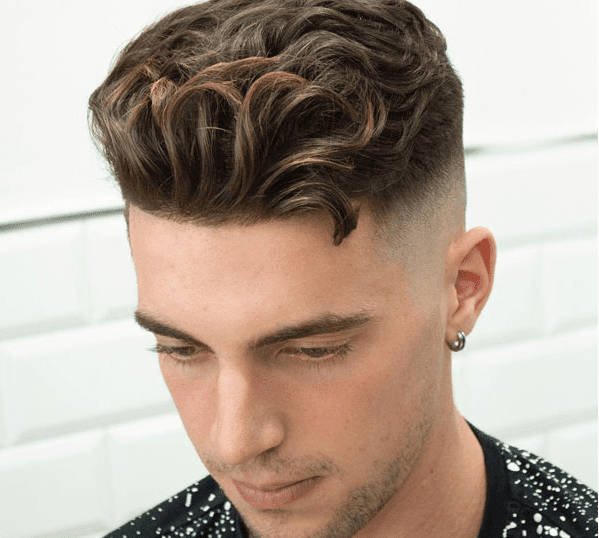 24-Brush Short haircut
This short haircut is army-inspired and the edge of this hairdo is that men can do themselves at home. All you need is a duo of specialized stylist scissors and a number of respective protector sizes. You can easily buzz around your hair very quickly and easily. In order to blend both sides and back on top, take variant size scissors guards. Similarly, you can also look into different tutorials for assistance in order to work out how to cut your hair short or long.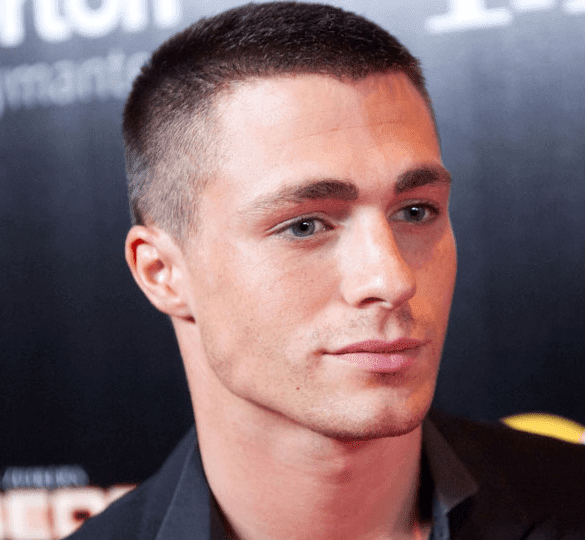 25-Line up and texture crew cut fade haircut short haircuts for men
This type of crew cut haircut always continues to be a hairstylist much loved for the reason that men with all types of hair can create the style of their own choice. Lining up the crew cut with a fade cut in the center and hair that is back comb and spiky in the direction of the center of the head. It is quite easy to shape and is has a striking resemblance to a faux hawk short haircut.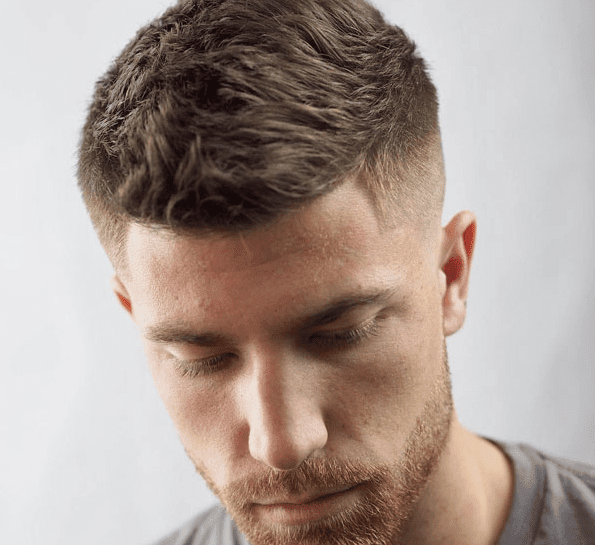 26-Blowout tapering short haircuts for men
This haircut requires top-quality hair products, a good functioning hair dryer, and a hair brush. Starting with a short tapering cut on both sides and tell your hair stylist the desired hair length you want on the top side. Primarily utilize hair spray or mousse to brush the hair back over and done with, and end with minimum heat to retain the style in position throughout the day short haircuts for men. Generally, the blowout tapering hairdo provides a smooth bro movement short haircuts for men.
27-Messy spikes along with high Fade
High fade messy spikes are cool and even-tempered haircuts for present-day gentlemen. Usually, this hairdo is considered fun and renewed. Despite the fact that the small spiky hair can be shaped with some good hair product and dragging the spikes in various sides. On the whole, it gives a sexy and decent-looking appearance to the men.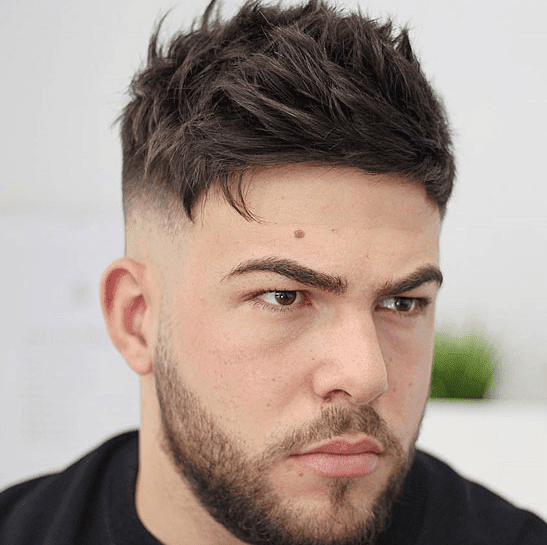 28-Modern Flat top haircut
Despite the fact that the flat top haircut has conventionally been a martial hairdo, this trendy transition provides the hairdo a fresh fill in. The fading sides and clean-shaven hard part line impart the haircut a young-looking expression. On the other hand, the parallel cut which produces the flat top is distinctive. Thus, making you show up in any gathering.
29-Messy texture bald Fade haircut
Among the top-rated short haircuts for gentlemen with low volume hair usually comprises of short sides along with messy texture hair styling on top. The tapering fade restyling and texture, usual hair styling reduces the emphasis on your thin hair appearance. The branded hair products used for poor volume hair usually comprise of hair wax, pomade, or clay. Since constituents for example kaolin clay and beeswax give hair a denser and completer look.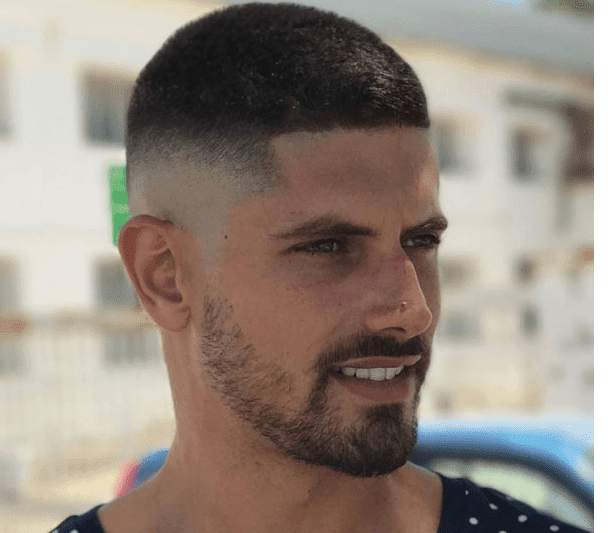 30-Regular short haircut
Even in this latest era, most men tend to like a regular short hairdo for an outdated shop of the barber. This regular short haircut is a fresh and elegant hairstyle. Along with classical tapering and a crew haircut with side-swept bangs. Simply spread over your preferred shaping wax, cream or pomade for a clean textured look.
31-Short hair with shaved sides
Mostly the shortest hairdo styles frequently comprise of clean-shaven sides. Usually combine with rough hair styling which is messy, spiky, and tangled in all diverse sides. Hence this headboard appearance is good-looking and uneven. Such type of hairstyles also depends on the beard shape. So you must try different amazing beard styles along with shaved haircut styles.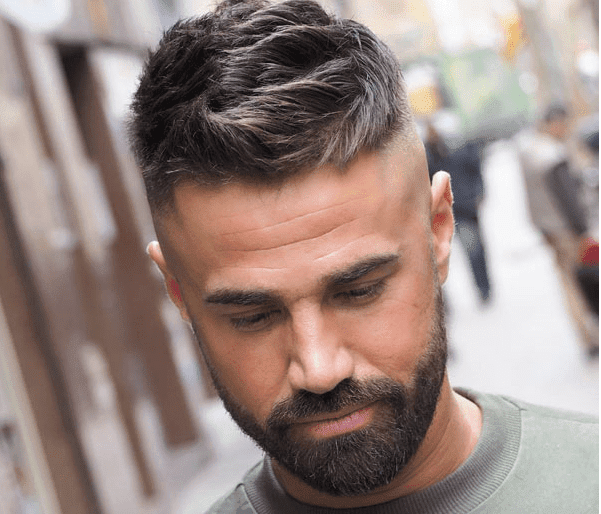 32-Side swept bangs with Bowl haircut
There is a number of traditional haircuts that have made a bit of transition. In order to give a more stylish in fact, modern look. Therefore, for an extreme modern-day look try out the classical bowl cut, along with joining it with side-swept bangs. This blend also has a tendency to be additional pleasing compare to the outdated appearance, which has a parallel outlying.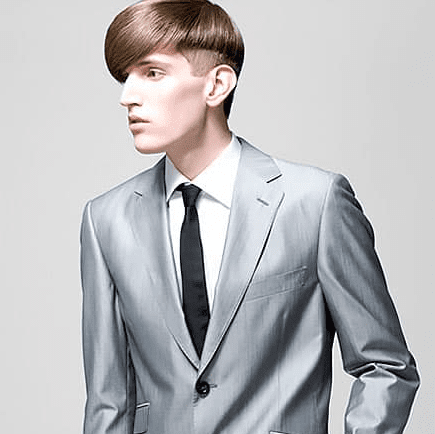 33-Short comb over haircut
It has been observed that comb-over hairdos are the top-rated selection of most men. It all happens due to its elegant look that is still prevalent in the modern era. A short comb over haircut is particularly perfect for gentlemen with low hair volume and who want elegance to ensemble their thin hair.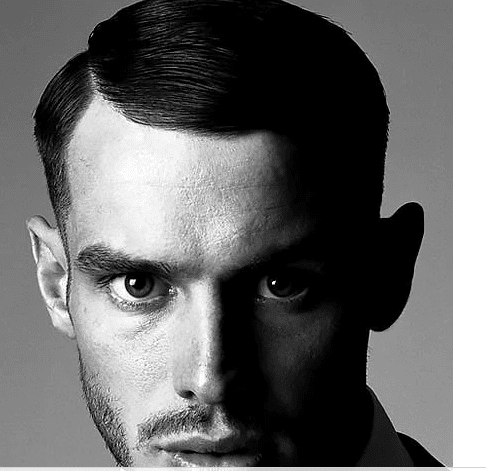 34-Disconnected short haircut
The short disconnect undercut, which usually exhibits small sides compared with a lengthy top, is edgy, contemporary, and extremely fashionable. This hairstyle is also a ready pick option for men.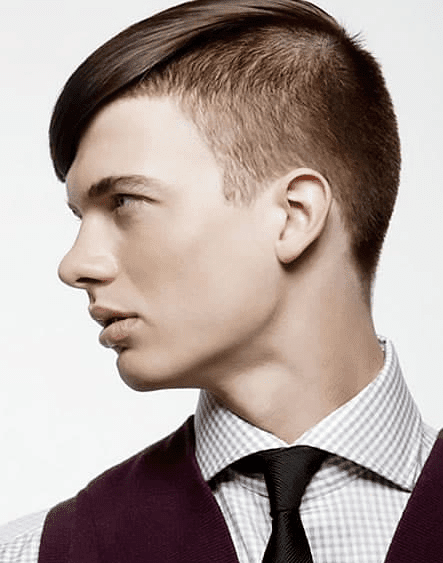 35-Curly short quaff haircut
In case you are having curly hair locks, you must ponder designing your hair into a quiff. In this way, you can display your ordinary volume and hair texture. Likewise, curly or wavy hair can easily manage and also look graceful. Even you can look at various celebrities and models carrying this cool look.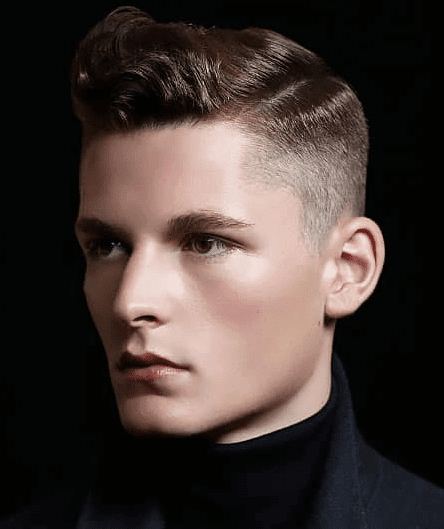 36-Pierce Brosnan's Classical Scissor haircut
Another most famous scissor haircut requires no time. Also, it can help men with fading hair side lines or no volume hair problems. It is filled and equal all up, captivating devotion far away from thinning hair problems.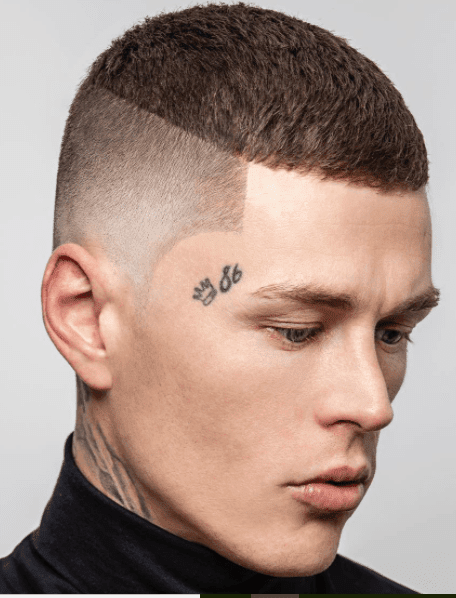 37-Skin Faded sides with simple top
This trending haircut with skin fade sides makes a distinctive stripy look. The main advantage of this haircut is that there is no need for styling your hair is essential. However, it imparts a decent, elegant look to professional working men.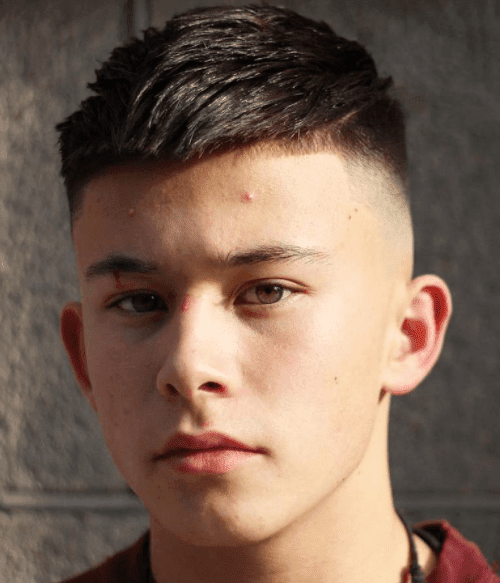 38-Sleek skin fade short haircut
This short haircut is amazingly suitable for men with thick hair growth. Curly and filled with texture, the sleek skin fade short haircut is an outstanding choice. If you tend to like shorter haircuts. Ultimately, you will get a charming decent look.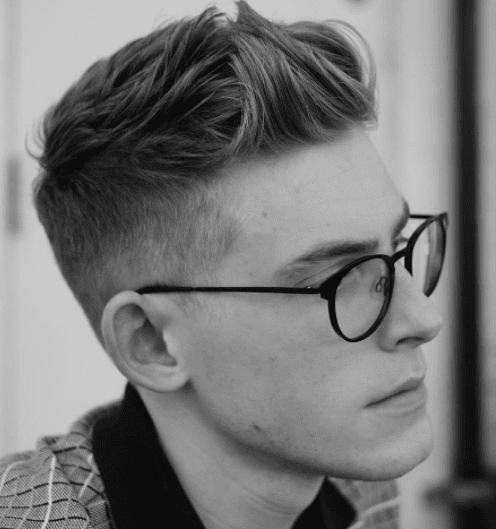 39-Side brush up short haircut
Presenting a specific, stylish and contemporary side brush-up short haircut that is an excellent choice for men, who like to remain updated regarding fashion. This trending short haircut provides the hair loads of movement and a messy rough look. Hence it adds volume to your hair and gives a regal look.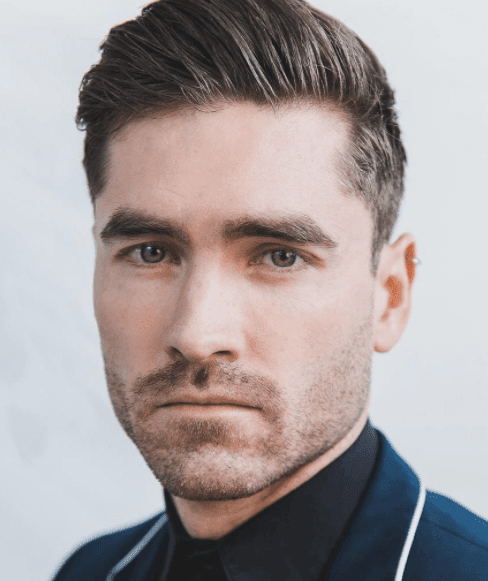 40-Classical tapering short haircut
Nowadays, tapering haircut with various transitions in top trending. However, If you like a decent simple, and casual look this haircut is the best option for you. The sides in this haircut are tapering while the hair on the top is swept aside. Thus, giving you a simple yet decent look.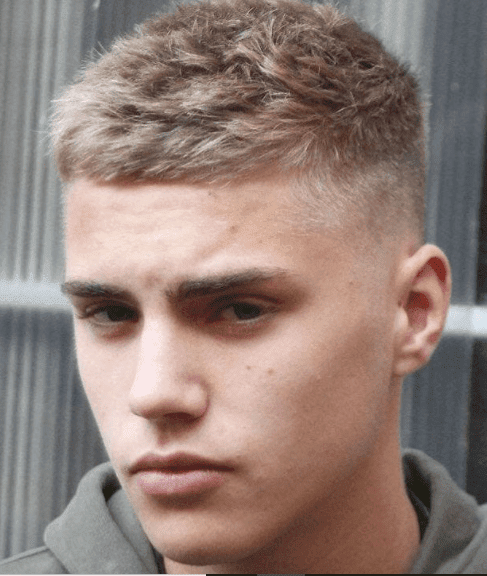 41-Blonde crop short haircut
Presently, this haircut is the best choice for men who have fluffy, soft hair and tend to like short haircuts. However, the hair preserves its original texture and is consequently messy.
42-Drop fade with Touseled short haircut
Usually, this haircut is a favorite among most men because of its wavy, messy top look. The casual fade on both sides enhances the overall appearance. Also, the small facial hair displaying a certain sense of adolescence.
43-Sharp line up with dark fade sides
This hairstyle is known by several other names in different regions of the world. Also, this haircut for short hair has neat, distinct outlines, a lot of dye, and a hard fade down the sides. Well, it is not wrong to say that it is among the top-rated haircut of the present era.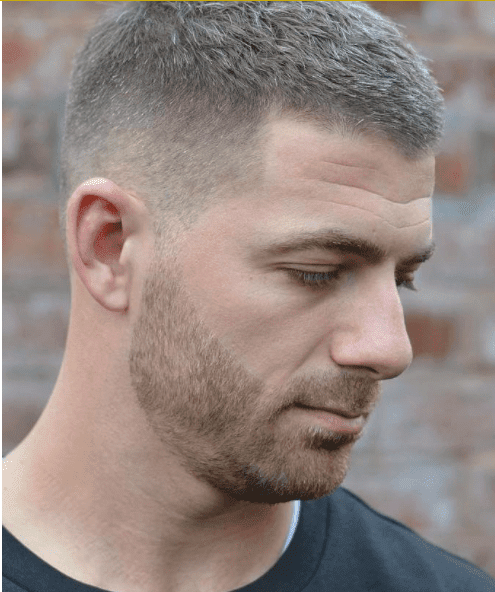 44-Rough top with soft side taper
This is the haircut every man can depend on for any period of time. Hence it has a small, messy top while you do not actually see the mess meanwhile because it is too short. Also, its down tapering subtle sides give an overall ethereal look that anyone can fall for.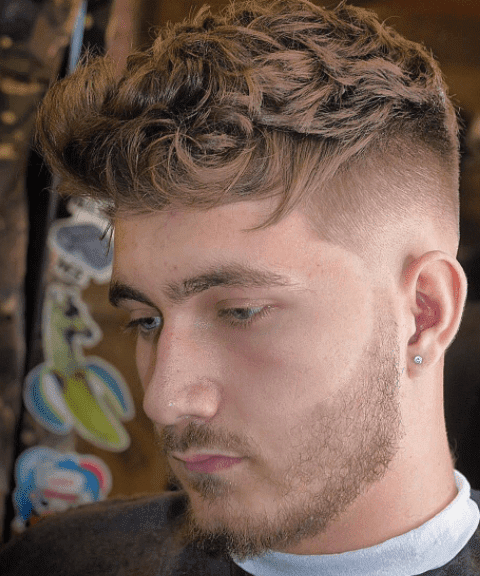 45-Chris pine's scissor crop haircut
Presenting one more crop short haircut with unique transitions. Chris pine's scissor crop haircut has a partition in two specific ways. Surely, this one is quite lengthy, and there is no doubt that it requires a bit more look after. Thus, giving a classical and traditional look.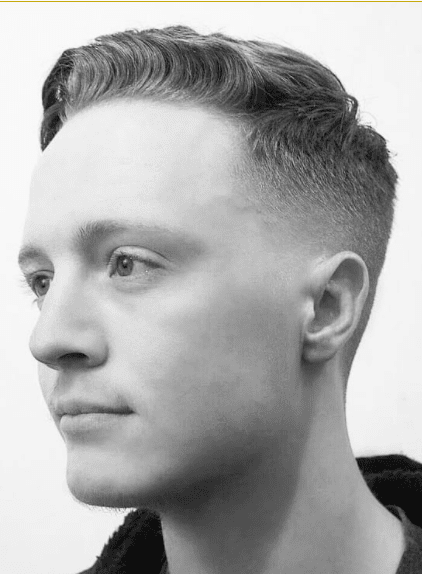 46-Wavy Brushing up hairdo
This brushing-up haircut is casual and young-looking. All you have to do is take a comb and move it upwards by using a blow dryer while curling up your hair on the top. Yes, you are all set for going anywhere for example dance or club parties, office meetings and many more. Also, the best thing about this hairstyle is that you can do this at home.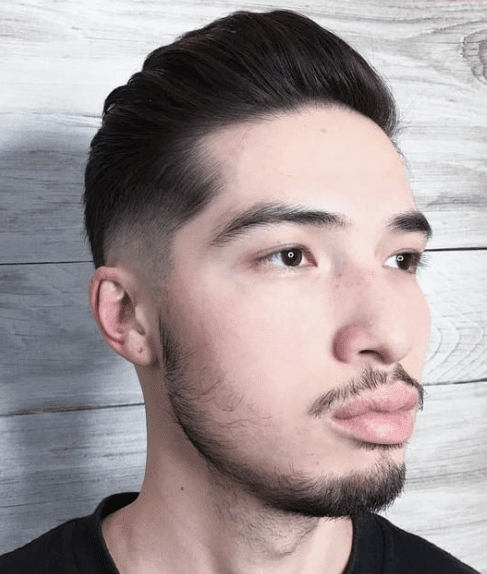 47-Rafael De La Fuente's Regular Waves
In modern hairstyling comb-overs always work effectively for faintly lengthy hair. You can easily make this hairstyle at home using the best quality hairbrush and a blow dryer. All you have to do is comb out your hair from one side to the other side. Thus, you are all set to go outside as it gives a remarkable look to you.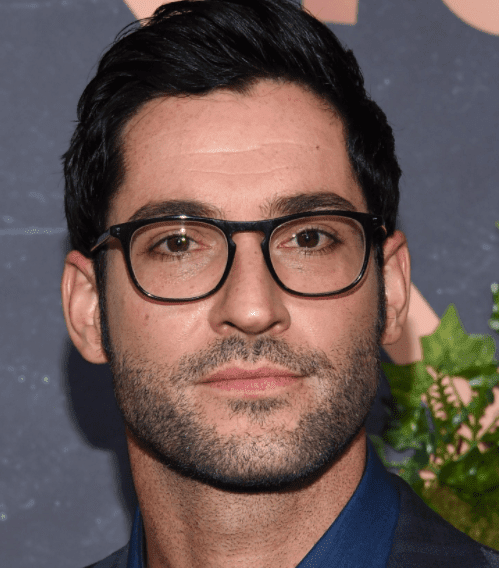 48-Tom Ellis' classical wavy Scissor crop haircut
Tom Ellis is a well-known celebrity who generally becomes famous as the Devil on Netflix's latest picked-up series The "Lucifer". In this series, he wears a casual however stylish crop haircut that represents the eternal and classy personality that this show requests as its success.
After the success of this series and Tom Ellis's role, his haircut also gains popularity all around the world. Mostly men ask their barber to give them this classy look.
49-Grant show short crop haircut
Classical short crop and crew cut hairdo work amazingly if you are having widow top. This hairdo is quite easy to acquire, a tremendous everyday hairstyle, and looks wonderful than good.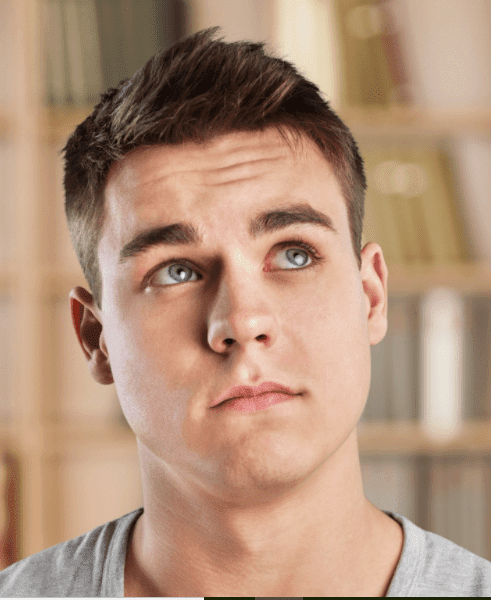 50-Styling side brush comb over
Presenting here one more distinction in the comb-over hairdo. Like other transitions of back comb over it also has to introduce fading sides, along with shorter or longer, wisely design on the top. Like always this styling side brush comb over is like by the majority of the people. Also, it gives a more majestic and decent look. This haircut is most favorite among youngster short haircuts for men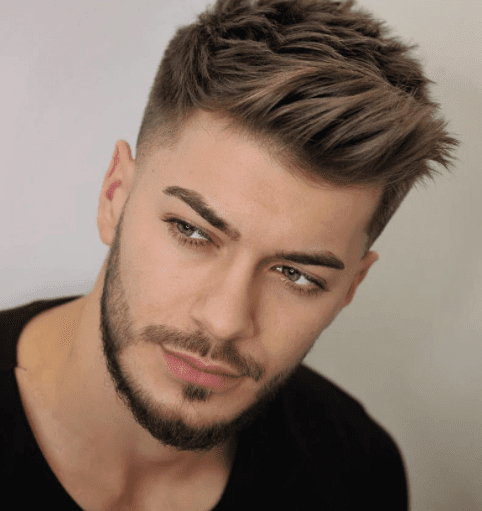 51-Pocky short haircut with shaved outline
Shaved hairlines look fabulous if done by a professional hair stylist. Likewise, doing shaved outlines are at all times amusing. Especially, when they will be such a distinctive portion of your overall look and personality. We are going to show you a fairly daring smooth-shaven partition that pay attribution to this extremely textured hairdo.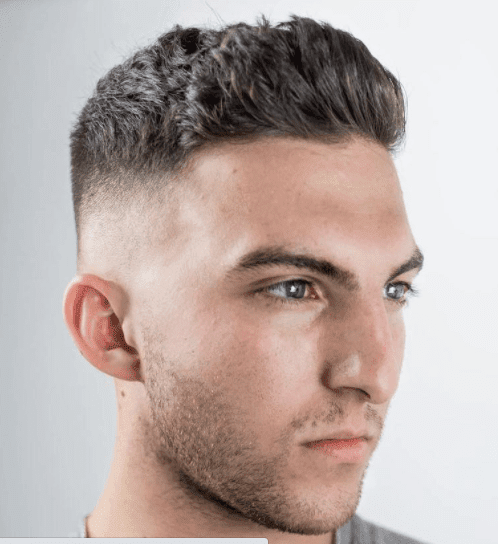 52-French crop without fringes
Whether to go for fringe, or without fringe has always been a difficult option. From time to time going for a fringe to your haircut can summarize the things all around. On the other hand choosing without fringes French crop you can have the similar result by rotating the tabletops to an angel of 180.
53-Thin sideburns with short crop and burst Fade
One can easily say that short crop haircut are never boring. In fact, they change the overall look of yours. These short haircuts for men more or less also looks amazingly great. Similarly, the sideburns in this haircut are drawn so thin that they have turn out to be a main point to match this clean burst fade.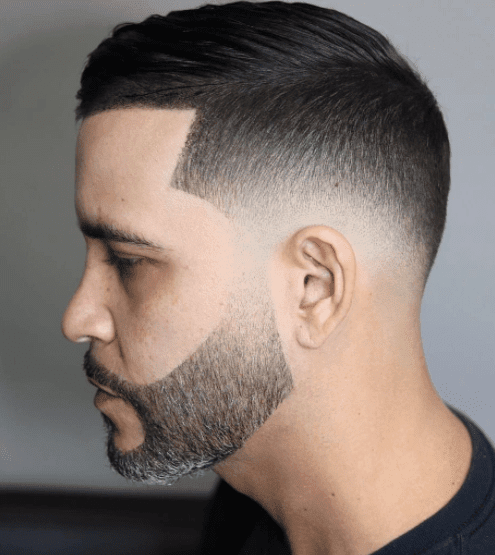 Conclusion
As an ending point, we can say that the trend for short haircuts for men can never be wide of the
mark. In fact, to some extent having a short haircut with a cool and amazing look leave an
expression of satisfaction. Also, a short haircut for men is always a trending fashion. As it is
easier for most of the guys to go with this look everywhere like office meetings, conferences, and
seminars, etc. Similarly, it seems awesome to go with the latest trend. To be very honest men
look charming and super comfortable in short haircuts. people are using the latest hairstyle to enhance their beauty. if your hair style will be more attractive people like it and love to talk with you. your personality will show in a comfortable scenario and people will follow your styles as well. it is most necessary to use hair oil because it will help you to established your hair very well. people like short haircuts because they improve your personality so you can use above anyone hairstyle to grooming your personality
for this above design you can enhance your head beauty